Regular price
Rs. 5,830.00
Regular price
Sale price
Rs. 5,830.00
Unit price
per
Sale
Sold out
Free Shipping  Special Packaging  3-5 Working Days Delivery
The snow-white three-strand is a perfectly round-shaped Freshwater Pearl Convertible Choker Cum Bracelet Necklet from our everyday wear collection. 
A choker and a bracelet look with just one set of pearl Jewellery will help you serve looks for either your corporate or your cocktail party attire. A Bracelet to your office and a choker to your Social and Cocktail parties is a perfect piece to carry for any event
A simple yet elegant bracelet for your corporate wear can be converted to a Necklet for your evening cocktail parties or presentations.
For this unique piece of art, we will create your product on order. We work to the highest quality standards and require more time than normal to complete this order. It will take from 6-7 days to make and ship, so please expect more than usual lead time.
Share
View full details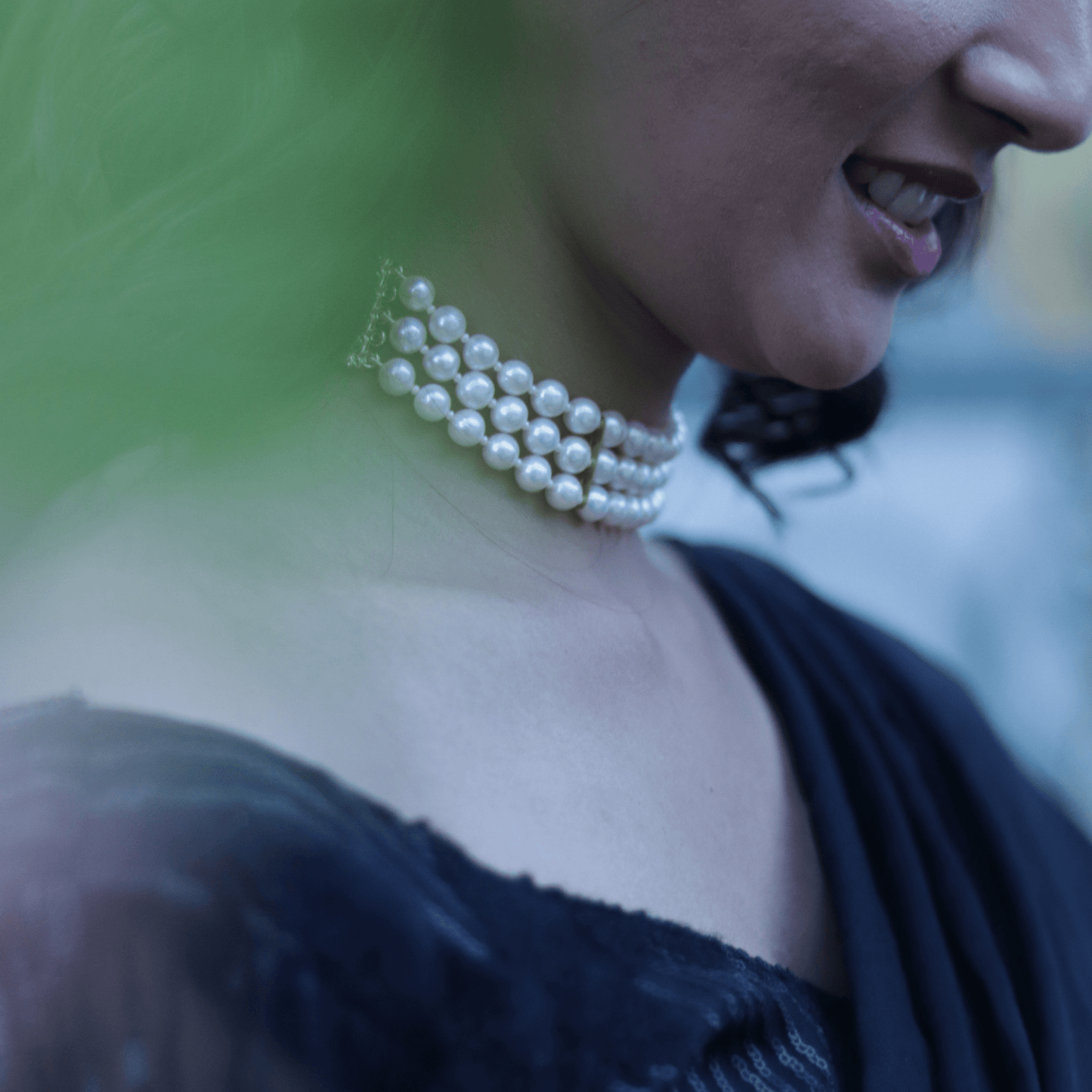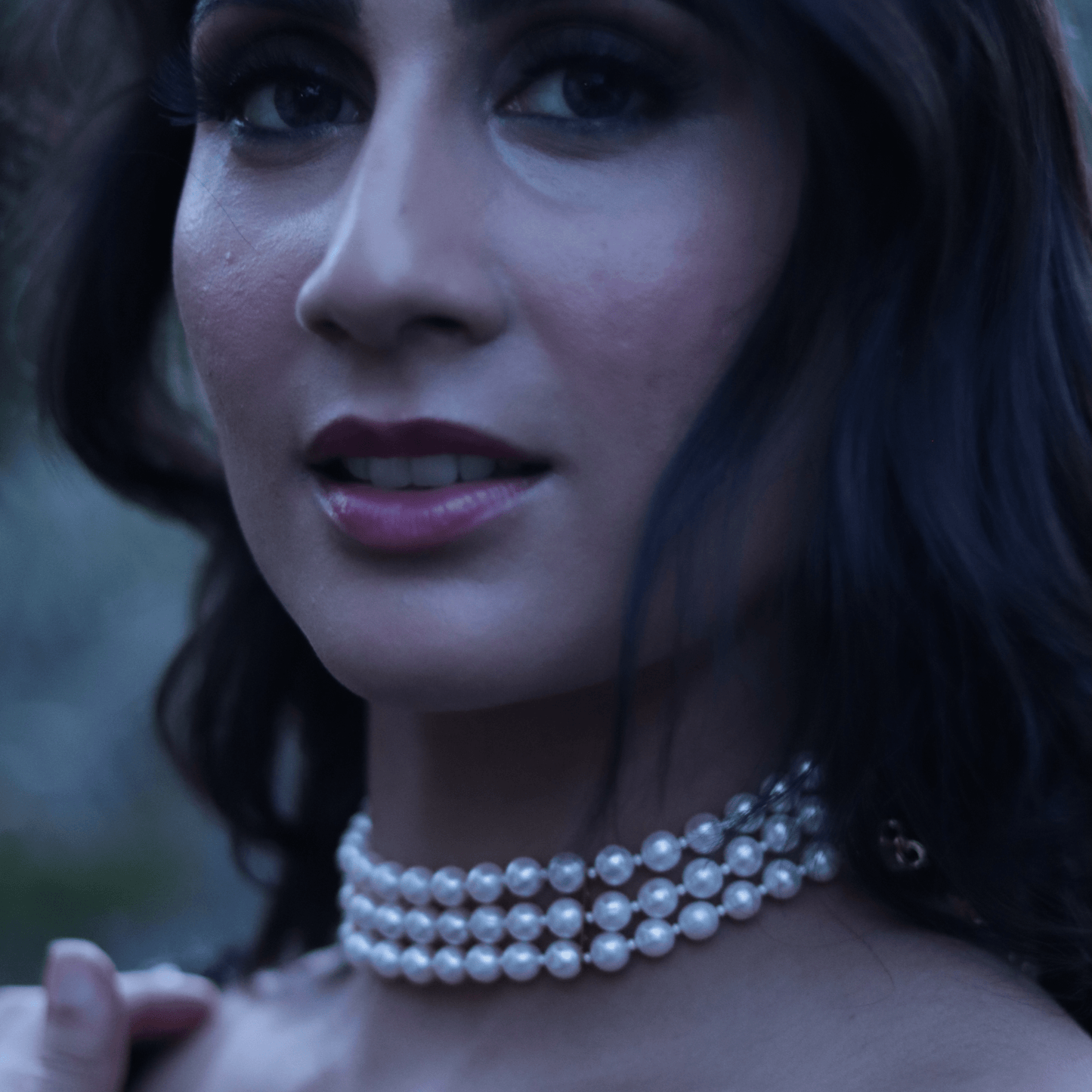 Collapsible content
Specifications

Material: Freshwater Pearl + 925 Sterling Silver
Grade : AAAA
Color: Milky White
Pearl Shape: Almost Round
Pearl Size: 4-4.5mm approx.

Do's and Don's

1> Last On, First Off

2> Clean your pearls with soft cotton

3> Avoid perfumes, hair spray, or any other cosmetics

4> Try not to spill water, liquid, or any other chemical

5> Always use a soft pouch to store pearls in a dedicated box to avoid getting them entangled

6> Get your Jewellery restrung in reqular intervals
Custom Desings

Please Note : In case of any specific requirements, please call+91 8799715976
Please Note

CherishBox offers real freshwater pearls. Every pearl has its own characteristic and may have slight differences in shape, size, and color making each pearl distinctive and unique. Attributes and images appearing are of the actual product to provide you with maximum detailing and impression. However actual product color might differ as appearing in the image due to light and screen resolution.
Care your Pearl

Pearls take care of your class, femininity, and style. And in return demand some care and caution.

They are exquisite delicate object and thus requires indispensable care. Giving them proper care makes it shine longer. Here are few tips on how to take care of your Pearl

How to wear

Wear pearls often – Pearls when worn often, maintains their shine and keep them hydrated
Last on, first Off – let your pearls be the last to put on and first to come off.
After every wear, clean your pearl with soft cotton – wiping your Jewellery every time after use can help remove any body oil, makeup, or unwanted substance which might take away the twinkle of your pearl
For lasting longer, make sure that your perfume, hair spray, or any other cosmetics do not come in direct contact with your pearl
Do not wet your pearls. If you spill anything like water, juice, tequila, or any liquid wipe immediately with a soft cotton cloth
Avoid getting pearls to direct sunlight or places with high humidity or heat
Use lukewarm water and mild soap as a solution to clean the ornament (only if required).  Use a clean soft cotton cloth to wipe it immediately with a fresh soft towel to avoid the water contact for longer. Do not store the Jewellery until it's dry.    
Avoid household chemicals. Do not wear your pearls while cooking in the kitchen to avoid contact with any acid or liquid solution

How to store Pearls

Pearls get scratched easily when coming in contact with any sharp substances.

If you have to carry your pearls, always use a soft pouch. Avoid storing them for long. The more often it's worn, the more grace it retains.

Restring your pearls every year to avoid thread accidents especially for a strand pearl necklace. The tread used is either nylon or silk which loses its strength and thus requires a change.

Store them flat and in a dedicated box. Do not store multiple pieces in a single box to avoid any starch or getting entangled

Do not store pearl in plastic bags rather they need to be stored in a box having silk/satin or velvet-lined box

Avoid wrapping it in any colored paper or cloth which might lose its color

Pearls are real but the material used to hold them is artificial. To avoid spoiling your pearls, make sure to

change them.

CherishBox provides you with exclusive packaging with every item. 

So Why Wait? 

Buy yourself a CherishBox! 
Handcrafted In India

Certificate of Authenticity

24/7 Customer Service

Exclusive  Packaging

Secure Transaction

Free Shipping
Collapsible content
925 Sterling Silver

CherishBox offers silver jewelry
designs that are made with pure 92.5% Fine Sterling Silver. Thus, ensuring quality for you.

.
Skin Friendly Products

Savor the luxury that you deserve with our skin-friendly, anti-allergenic silver jewellery.
100% Genuine and Authentic Pearls

Stunning and elegant, these oyster generated pearls from CherishBox have a beautiful luster and shine to them